Supporting Malaysia's Smart City Framework and Moving Forward
Due to advancements in technology and the internet, smart cities and developments have been sprouting up all over the globe. With the world growing increasingly connected and dependent on technology, the development of these smart connected infrastructures has grown tremendously, especially in the last decade.
i-City Golden Triangle (i-City GT) in Shah Alam was conceptualised as an integrated tech-centric ultrapolis, an important location for local and international connections, commerce and communications. It would also be a significant centre for the capital city of Selangor and is in line with Malaysia's aspirations to become a high-income nation. The vision of 25 years ago remains relevant today, and very much into the future.
Today, i-City GT, driven by its smart technology, connects us to the intelligent world by moving towards the intelligent management of our lives and the environment we are in, powered by a combination of cutting-edge technology in delivering digital convergence through a single platform to every person, residence and business.
i-City GT's master plan was conceptualised by world-renowned master planner Jon A Jerde — with its Experience Makes the Place concept.
Thriving connected environment
The technology-related infrastructure of i-City GT is future-proof. With its current 400G-capable network, the connectivity in i-City GT is a premium advantage. It will gain a significant edge in rolling out endless future technologies, such as the deployment of 5G when available.
As broadband connectivity becomes a critical component for multinational corporations (MNCs), the push towards 5G will ensure that i-City GT becomes the nucleus of telecommunications organisations, financial institutions and high-technology firms, as well as start-up companies.
i-City GT has already begun demonstrating how this infusion of technology is already at work. The recent roll-out of the i-City SuperApp integrating functions for payments, parking and other services within the ultrapolis is testament to the development's ability to create a cohesive and connected smart living community.
This Malaysia No. 1 Technology City is a MSCMalaysia Cybercentre, which has a certified Tier-3 data centre within its development, has a second brain, a neural network designed to manage, store and retrieve all information needed in an organisation seamlessly, anytime and anywhere. The advances of emerging information and communications technology (ICT) technologies in Internet of Things (enabler) —A: Artificial Intelligence (tools), B: Big Data (capability) and C: Cloud Computing (services) — form an ultra-intelligent Cloud Integration Platform powered by this second brain. ABC with the second brain will complete its ICT ecosystem to transform, upgrade and promote smart township management and building automation.
With its ICT ecosystem already employed in transforming the service, social, business and entrepreneurship systems as well as value-creation within, this game-changing development is also able to utilise real-time data and analysis to think on its own.
Local blueprint
i-City GT is most visible and accessible from the Federal Highway when one travels to Kuala Lumpur from Port Klang or vice versa, though one can also reach it via the North Klang Valley Expressway (NKVE) and the Kemuning–Shah Alam Expressway (LKSA). Add to that the West Coast Expressway (WCE) and options by road are aplenty.
An LRT3 station is expected to be completed by 2022, with covered pedestrian walkways connecting it to i-City GT. Driverless smart cars and an electric tram service will make travel in and around the ultrapolis even more seamless.
i-City GT is centrally located — a 30-minute drive south takes you to the Kuala Lumpur International Airport, to the west are Malaysia's three busiest seaports, and to the east is downtown Kuala Lumpur City Centre.
A stone's throw away are two pre-eminent universities with a student population of over 60,000. Within a 30km radius are at least six privately-owned universities and numerous other institutions of higher learning — an immense talent pool for the future.
i-City GT remains the only urban centre in the capital city and is home to ICT-centric businesses such as the Selangor Digital Creative Centre (an incubator and co-working centre of the state government), and the first Uptime Institute-certified data centre in the country.
i-City GT will not only be the centrepiece of Selangor but will also stand as the poster-child of Malaysia's Smart City Framework, defining the future approach to urban planning, development and management.
Global footprint
The i-City GT we see today was founded on the determination to offer an integrated tech-centric lifestyle ultrapolis with the infusion of cutting-edge technologies, characterised by a number of strategic alliances with some of the world's leading lights.
i-City GT's skyline is now decorated by global brand names such as DoubleTree by Hilton, Best Western and the Central i-City mall, with more to come. Grade-A office tower, data centre, residential highrises, tourism, retail and recreational offerings and a data and innovation centre will complete the ultrapolis development.
Partnerships have also been established with world technology leaders such as Huawei International, HIKVision and SenseTime to further accelerate its goals, in addition to programmes with entrepreneurs and venture capitalists to develop an entrepreneurial pool of talent to support and serve the new knowledge-based economy in i-City GT.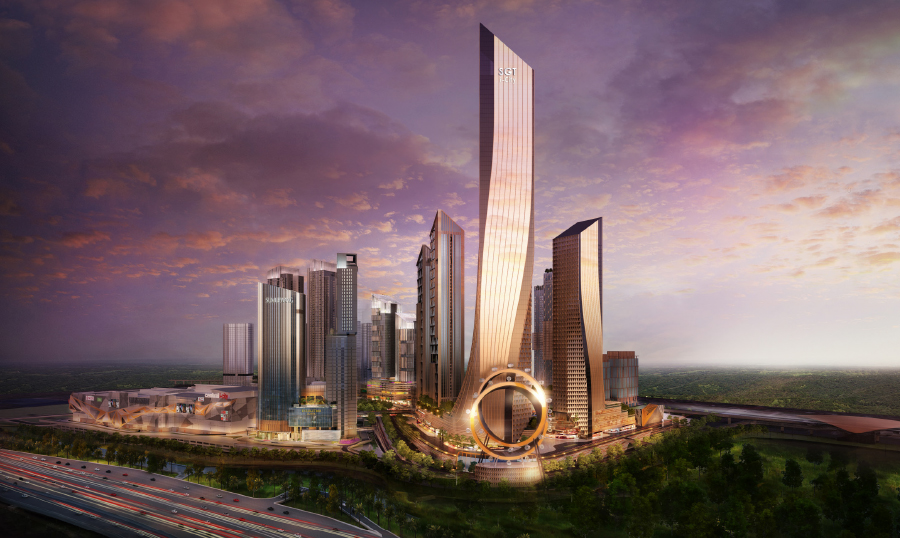 Envisioned as a smart city, i-City GT will act as a catalyst in the development of a dynamic economic engine for Malaysia, particularly in Selangor
Smart thinking city: Next phase
The coming stages in the evolution of i-City GT will be exciting, with the iconic 78-storey Double Eye Tower expected to be the tallest building in the capital city. Connecting it is the Double Eye — featuring two cantilevered observation wheels with the outer wheel interlooping over the inner one, will be a world's first. Along with the other components of i-City GT, the capital city's skyline will be permanently transformed to reflect an international city.
Envisioned as a hub for technology and innovation, the Double Eye tower is ready to house global technology-based corporations, while i-City GT's tourism component, which has received accolades from CNN Travel as being among the world's top 25 brightest and most colourful places, will be enhanced by the Double Eye.
The possibilities are endless for i-City GT, with an estimated 25,000 residents and 30,000 knowledge-based workers upon its completion.
i-City GT, with a RM10 billion gross development value, is Malaysia No 1 Technology City that offers a tech-centric lifestyle in a well-connected transit-oriented development.
To know more http://bit.ly/BeCentralbyi-City
Validating the vision of an integrated tech-centric international city